---

Shop at my official Art Store



Become a fan on Facebook



Follow me on Twitter



View my art on Instagram


---



---



The latest art tips and techniques, reviews and interviews from my studio. Updated here and at World Famous Comics!



Comics 101 Archives


Comics 101 for 04/14/2005
Star Wars Epic Celebration III Convention Poster and Souvenir Program Cover

This week, April 21st through the 24th, I'll be appearing at Star Wars Celebration III in Indianapolis, Indiana and I recently completed the official souvenir program cover artwork *and* the Celebration III "Epic" convention poster artwork with my pal Star Wars artist Jeff Carlisle for this event!

If you'd like your poster or program book autographed for free then be sure to stop by my table in the Art Show in rooms 105 and 106. Here are the hours I'll be appearing in the Art Show during the event -

Thursday, April 21: 1:00 PM - 8:00 PM
Friday & Saturday, April 22-23: 10:00 AM - 6:00 PM
Sunday, April 24: 10:00 AM - 4:00 PM

For more information on the other Star Wars artists attending the Celebration III Art Show be sure to check out this Star Wars.com news update here.

Also, through permission of Lucasfilm I'll be offering an exclusive 12" x 18" print of my latest Episode III artwork I completed with Jeff this past December exclusively for Celebration III! The artwork, entitled "Revenge of the Sith", features Anakin Skywalker confronting the viewer with his Sith lightsaber in hand framed by Obi-Wan Kenobi and Padme Amidala. Behind them all looms the fiery landscape of Mustafar and the fearsome visage of Darth Vader. This artwork will be signed and numbered to just 250 copies and will be sold exclusively at the event. Click the thumbnail below to view the full size exclusive print artwork.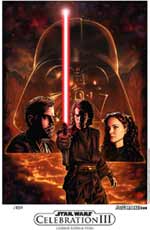 Be sure to stop by my table in the Art Show to purchase this one of a kind Star Wars: Episode III Revenge of the Sith collectible and other original Star Wars art!

I'll also be signing at the Dark Horse Comics booth on the main exhibition floor Thursday April 21st from 5pm to 6pm and possibly at other times throughout the weekend. Drop by the booth and see what the fine folks at Dark Horse have in store for everyone.

For all of the up to date news, events and coverage for the show visit the Celebration III page at the official Star Wars website right here.

I'm looking forward to seeing you all in Indy!

Hi Joe,

I am really stoked about the Celebration III Epic Poster and Souvenir Program cover! It really is an intense work to look at. Awesome job, Joe! Your exclusive Celebration III print is very cool too. I think these will sell as well as the posters and programs.

By the way, I think your poster outdoes Drew Struzan's EpIII movie poster!

Take Care,
Wil E.
Wow, that's such a great compliment, thank you! I really can't justify that statement though since Drew's technique is unparalleled and especially because he's one of my earliest influences.

My pal Jeff Carlisle and I worked really hard on our poster though. Lucasfilm told me before we started back in January to avoid Drew's stylistic elements like the collaged head shots and lens flare effects that he would most likely be using in his poster since he was working on his at the same time. There's definitely a pattern with the theaterical release posters and he set a certain, dynamic style for them back with the Special Edition releases so I guess Lucasfilm knew what to more or less expect from him.

They requested my drawing to emphasize action and feature as many of the main characters as possible. I tried pushing for larger figures and dynamic, full poses wherever I could to really keep the characters from feeling too stiff or static. I'm a comic book illustrator though, that's the basis of my training as an artist and I always gravitate towards an action emphasis when possible, even in my full color work. When I look at Drew's work, I see fine art. When I look at my stuff I see disposable entertainment.

The hard part about this piece for me was designing it in such a way for the right half of the image to work alone as the cover to the program but also work as part of a larger whole to the poster image. I designed the piece around Vader's helmet since it was so symmetrical and used that image in the center to tie both sides of the artwork together.

I think the other difficult part was deciding which characters to feature on the cover since space would be limited. I boiled it down to the essential ones and since this movie is more intimate than the others I figured it made sense to focus on Anakin, Obi-Wan, Darth Sidious and Padme. But Lucasfilm insisted I work Vader onto the cover too and I was more than happy to oblige since he's my favorite character to illustrate.

Here's a look at our process of creating the artwork for the Star Wars Epic Convention Poster and the Official Souvenir Program Cover from my rough sketches, final pencil art and then the final colors.



Rough Sketch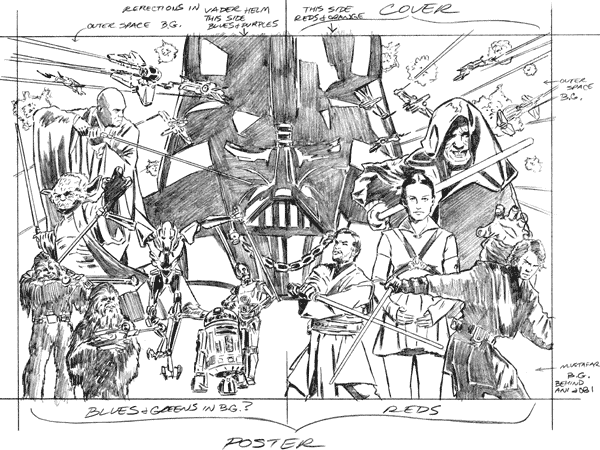 Revised Rough Sketch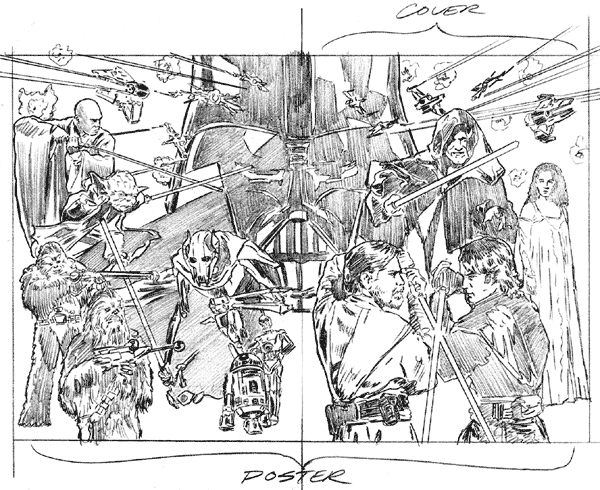 Revised Rough Sketch 2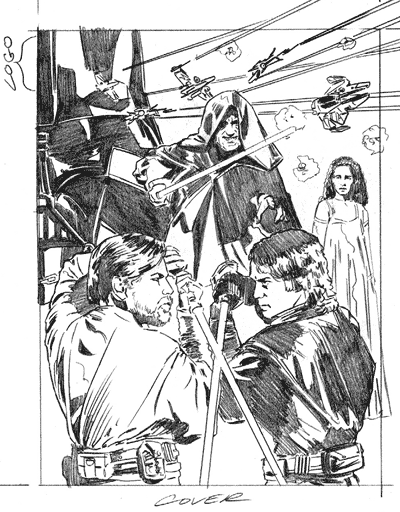 Final Pencil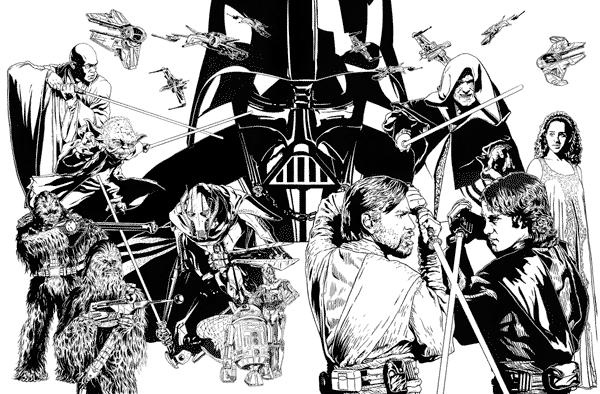 Final Pencil Detail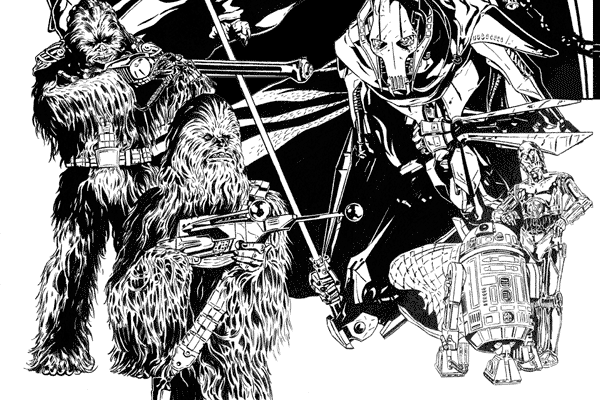 Final Pencil Detail 2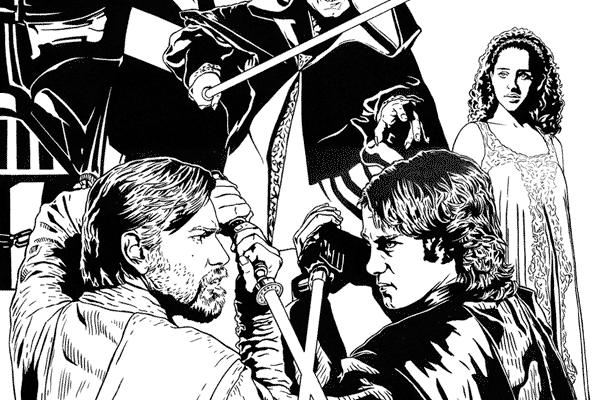 Color Step 1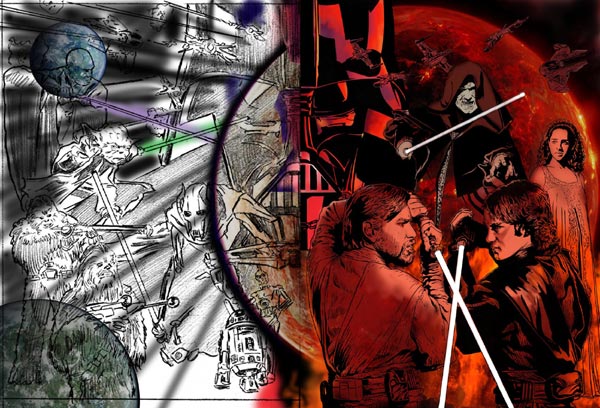 Color Step 2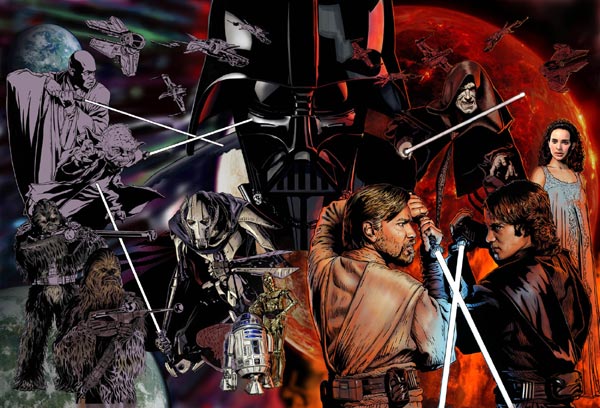 Color Step 3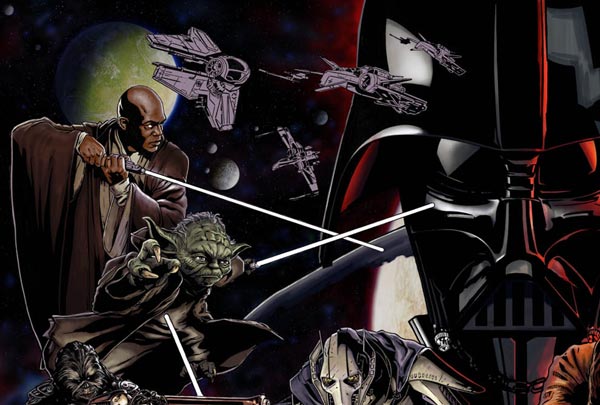 Color Step 4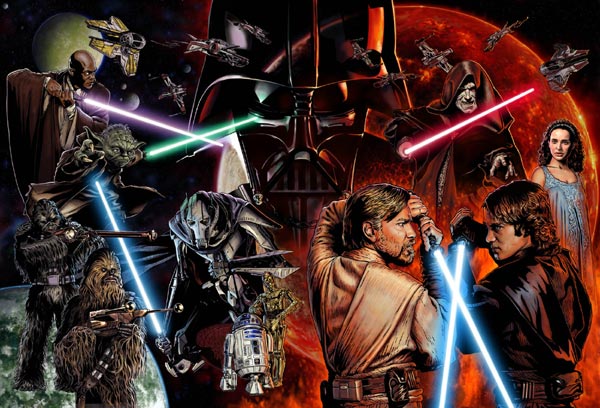 Color Step 5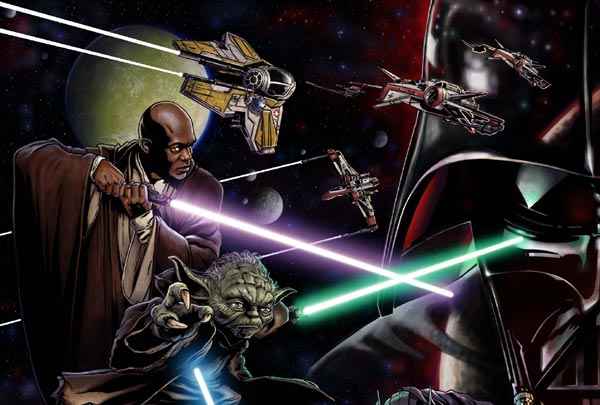 Color Step 6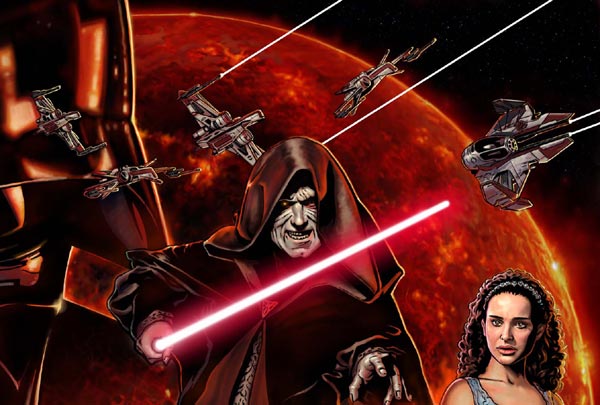 Final Artwork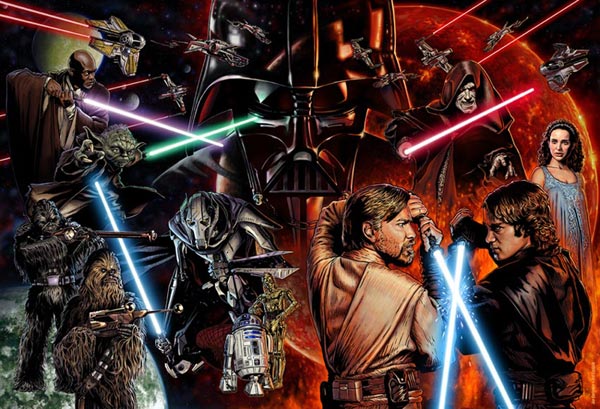 I hope you enjoyed this look behind the scenes of creating this brand new Star Wars "Epic" convention poster art for Celebration III!

Lucasfilm will only be offering about 1,000 of these exclusive 34" x 24" posters for $14 each through the Celebration III store on site so grab one early if you're coming to the show.

By the way, as a special treat I've made this Celebration III poster art available to download as wallpaper for your desktop. Just head over to my News section at my official site, choose your screen size and download it (Option+Click for Mac, Right Click for Windows).

I'll see you in Indianapolis for Celebration III and check back here soon for another Comics 101 feature!

-Joe



<< 04/07/2005 | 04/14/2005 | 05/05/2005 >>


Recent Columns:

NEWEST
TeeKay-421 Magazine #65: A Star Wars Interview (09/05/2013)
12/29/2011
Star Wars Galaxy 7 Artist Sketch Cards - Step by Step
10/28/2010
My Top Five Favorite Horror Films, The Horrors of Canada and Movie Review - Dellamorte, Dellamore (a.k.a. Cemetery Man)
09/09/2010
Movie Review - Machete
07/08/2010
Celebration V: The Empire Strikes Back 30th Anniversary Limited Edition Print Artwork
11/05/2009
Star Wars: Clone Wars Season One Widevision Artist Sketch Cards - Step by Step
11/06/2008
You Have the Comic, Number One: A Star Trek Interview
10/25/2007
Download Zombie Prom for FREE at iTunes, My Top Five Favorite Horror Films and The Horrors of Canada
09/06/2007
Movie Review - Rob Zombie's Halloween
06/21/2007
Star Wars: Celebration Europe 30th Anniversary Limited Edition Print - Photo Reference, Finished Pencil Art, In Progress and Final Color Art and Comic-Con International 2007
05/03/2007
Star Wars: Celebration IV 30th Anniversary Limited Edition Print - Photo Reference, Finished Pencil Art, In Progress and Final Color Art and Free Comic Book Day 2007
Archives >>
Comics 101 Archives
Home | Portfolio | News | Comics 101 | Stuff to Buy | Downloads | Bio/Credits
---
© 2018 - , 153 Sheffield Way, Sandusky, OH 44870
All other ® & © belong to their respective owners.