---
Become a Patron!

Shop at my official Art Store



Become a fan on Facebook



Follow me on Twitter



View my art on Instagram



Watch my stream on Twitch



Subscribe on Youtube


---






---



Art tips and techniques, reviews and interviews from my studio. Archived here and at World Famous Comics.



Comics 101 Archives


Comics 101 for 05/03/2007
Star Wars: Celebration IV 30th Anniversary Limited Edition Print - Photo Reference, Finished Pencil Art, In Progress and Final Color Art and Free Comic Book Day 2007

This May 24th from May 28th I'll be attending Star Wars Celebration IV in Los Angeles, California. You can find me participating in the Art Show there sketching, signing and selling my Star Wars and comic book artwork for everyone along with other Star Wars artists like Justin Chung, Chris Trevas, Dave Dorman and Jan Duursema. Through permission of Lucasfilm I created brand new limited edition artwork commemorating the 30th Anniversary of Star Wars which I will be offering for sale exclusively at this event.

Here's a look at the process of creating my new Star Wars artwork from my photo reference, pencil art, color art in progress, to the final color print design.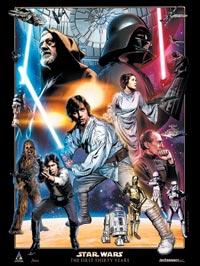 Just about a year ago, way back in June of 2006 in fact, at the premiere of Star Wars: Where Science Meets Imagination at COSI in Columbus, Ohio I began planning my design for my upcoming Celebration IV artwork. At the exhibit I was shooting original photo reference of many of the 501st and Rebel Legion members who were appearing in costume for the festivities there to use for my new print. From the hundreds of photos I took that weekend I narrowed down my selections to my favorite poses that worked best for my composition.

Seen here are models Bryan Stoyle and Lisa Scharf as Luke Skywalker and Princess Leia -



Photo Reference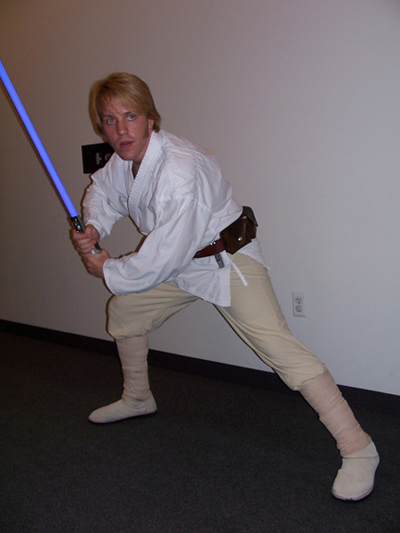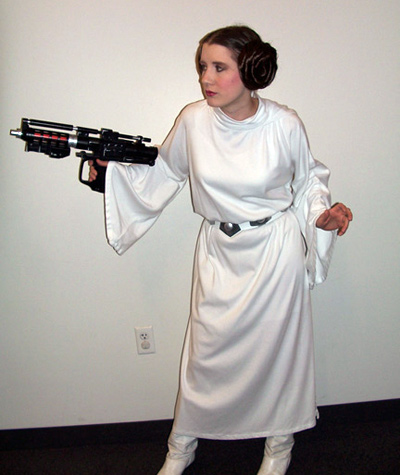 Also lending a helping hand for my project is Robert Bean as Darth Vader who has contributed as model reference for some of my previous published Star Wars projects -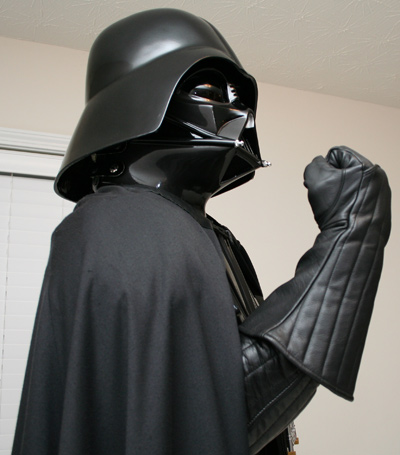 Once all of my necessary reference was in place I finalized my compositional design in Photoshop and began the drawing process -



Final Pencils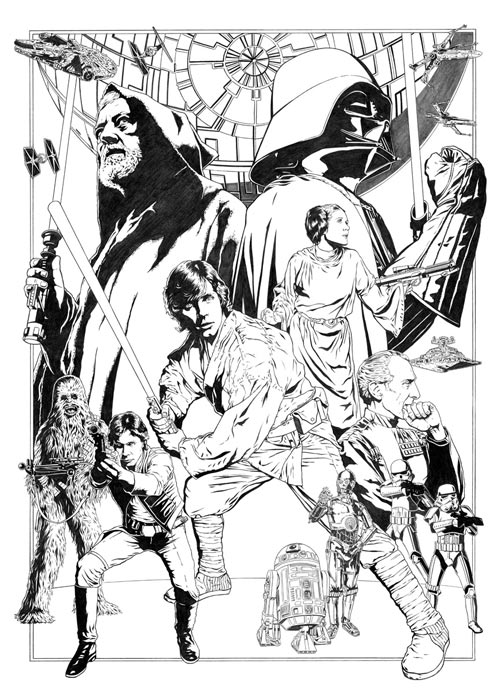 In the following detail images you can view the rendering progression in the color stage -



Color In Progress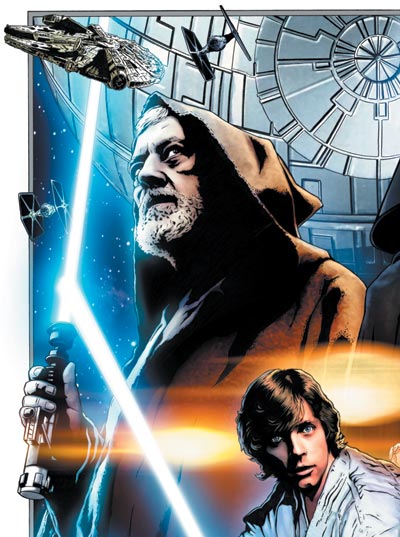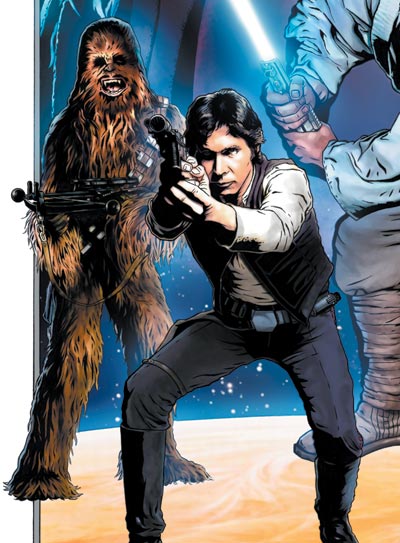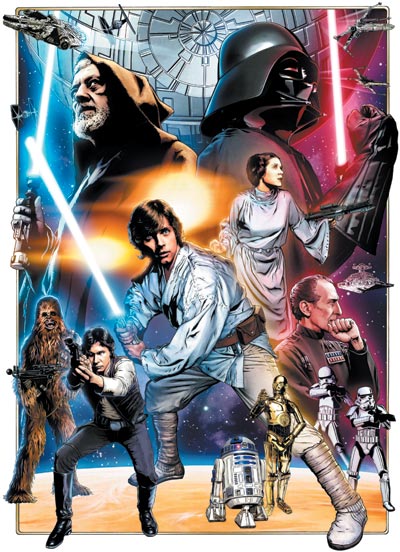 After all of the details and effects are in place the final color art is complete. I tried a variety of different print designs with text placement and border color, about eight or nine in fact. Here are four of my different approaches on the layout before I settled on the final design with the black border as seen below -



Print Design In Progress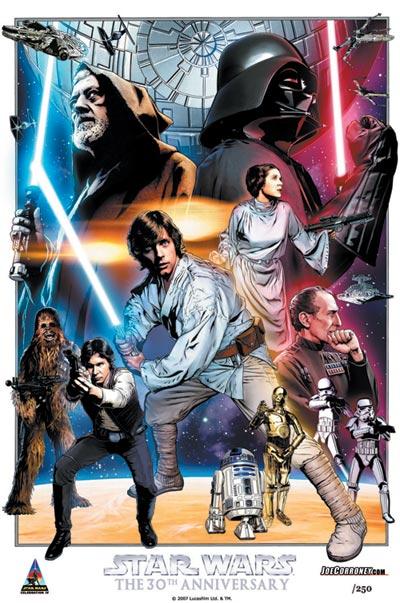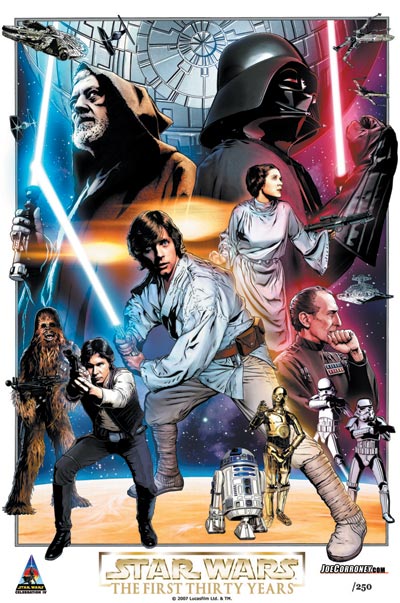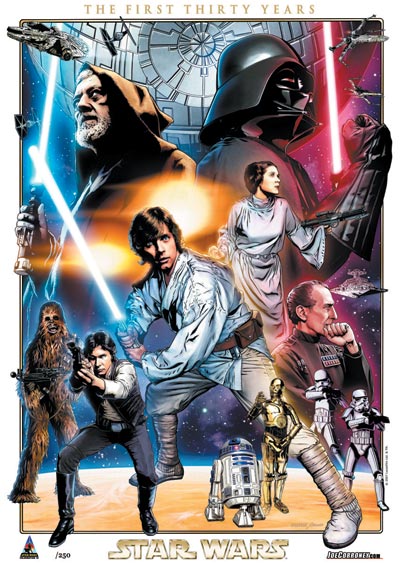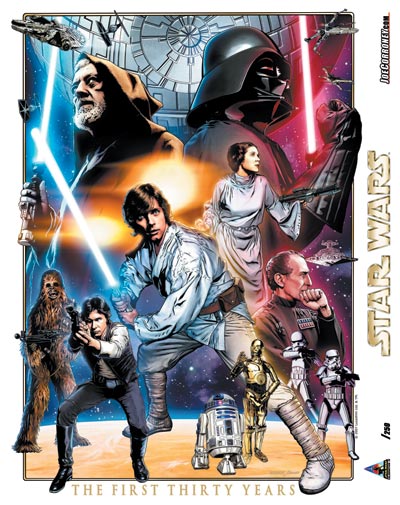 Final Color Print Design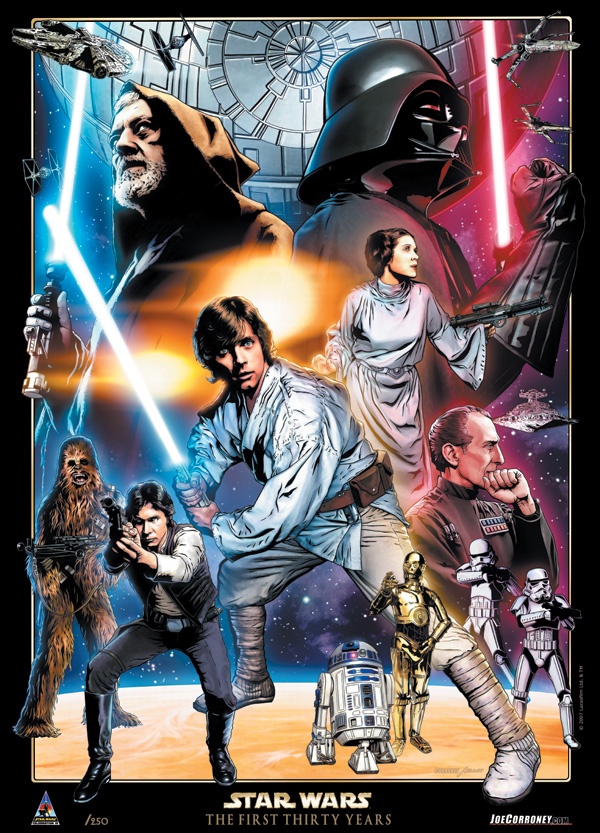 Finally, a really big thanks to my friend and frequent collaborator Brian Miller of Hi*Fi Colour Design for his expertise in helping me create this very special artwork.

For those of you attending Star Wars Celebration IV this print will be limited to 250 hand signed and numbered editions, 18" x 24" in size and will sell for $50 each. It will only be available for sale at the event directly from my table in the Art Show (located in the Main Exhibit Hall).

I am currently taking a list of reserve requests for prints (limit 2 per person) prior to the show if you email me directly at joe@joecorroney.com or through my Myspace page and type CELEBRATION 4 PRINT in the subject line. I will be accepting payment at the show. The artwork will be available for sale to all fans and everyone that attends the event and there will be *no limit* to how many copies you can purchase in person. I will be taking reserve requests up until May 22nd.

This reserve list is only meant for serious and interested fans and collectors (or their chosen representative) intent on purchasing the print from me on site at the show. The print will be held for you until pick up by the end of show time on Sunday, May 27th though I recommend pick up on Thursday if you would especially like a lower number edition. Due to Lucasfilm contract rules and regulations I cannot sell this limited edition print artwork before Celebration IV on May 24th or after the event on May 28th so don't miss your chance to own a rare and highly collectible art piece of Star Wars history.

At Celebration IV I will also be signing, sketching for fans and selling my original art from Star Wars Empire, Star Wars Insider, The Star Wars Role-Playing Game, Hasbro, unpublished Star Wars art, Joe Corroney.com sketchbooks, sketch cards, posters, along with my Star Trek, Angel and Spike and other comic book artwork.

I will also be attending Star Wars Celebration Europe though I'm not sure yet if I'll be offering this same limited edition artwork there. Though with my limited edition print I will also be creating other, new Star Wars artwork exclusive to this special event. Stay tuned for more news as the event draws near.

I hope everyone enjoys the artwork and I look forward to seeing some of you in Los Angeles this May for the 30th Anniversary celebration of Star Wars.

**********

This weekend on Saturday May 5th I'll be signing at Comics 2 Cars in Florence, KY for Free Comic Book Day. I'll also be sketching for customers and selling my Star Wars and comic book artwork there. Appearing with me will be costumed members of the 501st Legion and comic book writer Beau Smith (Star Wars Tales, Guy Gardner: Warrior, Batman vs. Wildcat, Parts Unknown and many other titles). If you're in the area stop by the store and see us, say hi and pick up some free comic books from your favorite publishers.

Visit the FCBD website to find stores in your neighborhood participating for the event this weekend.

I'll see you next time for another Comics 101 feature.

-Joe



<< 03/08/2007 | 05/03/2007 | 06/21/2007 >>


Recent Columns:

NEWEST
TeeKay-421 Magazine #65: A Star Wars Interview (09/05/2013)
12/29/2011
Star Wars Galaxy 7 Artist Sketch Cards - Step by Step
10/28/2010
My Top Five Favorite Horror Films, The Horrors of Canada and Movie Review - Dellamorte, Dellamore (a.k.a. Cemetery Man)
09/09/2010
Movie Review - Machete
07/08/2010
Celebration V: The Empire Strikes Back 30th Anniversary Limited Edition Print Artwork
11/05/2009
Star Wars: Clone Wars Season One Widevision Artist Sketch Cards - Step by Step
11/06/2008
You Have the Comic, Number One: A Star Trek Interview
10/25/2007
Download Zombie Prom for FREE at iTunes, My Top Five Favorite Horror Films and The Horrors of Canada
09/06/2007
Movie Review - Rob Zombie's Halloween
06/21/2007
Star Wars: Celebration Europe 30th Anniversary Limited Edition Print - Photo Reference, Finished Pencil Art, In Progress and Final Color Art and Comic-Con International 2007
05/03/2007
Star Wars: Celebration IV 30th Anniversary Limited Edition Print - Photo Reference, Finished Pencil Art, In Progress and Final Color Art and Free Comic Book Day 2007
Archives >>
Comics 101 Archives
Home | News | Comics 101 | Stuff to Buy | Bio/Credits
---
© 2023 - , 153 Sheffield Way, Sandusky, OH 44870
All other ® & © belong to their respective owners.