---
Become a Patron!

Shop at my official Art Store



Become a fan on Facebook



Follow me on Twitter



View my art on Instagram



Watch my stream on Twitch



Subscribe on Youtube


---






---



Art tips and techniques, reviews and interviews from my studio. Archived here and at World Famous Comics.



Comics 101 Archives


Comics 101 for 11/06/2008
You Have the Comic, Number One: A Star Trek Interview

I was recently interviewed by author Rich Handley, a freelance writer for an affiliate website of Roddenberry.com (a multimedia entertainment site providing authentic merchandise and memorabilia for the true science fiction fan from the name that brought you Star Trek). I enjoyed answering his questions and talking about my Star Trek art and other projects so I hope you enjoy the following interview too.

Artist Joe Corroney has made quite a name for himself in recent years with his work for Lucasfilm's Star Wars licensees. Since 2007, he's also earned renown in Star Trek circles for the true-to-life character likenesses and technology depictions he's consistently created for IDW's Trek comics. Corroney's work has graced the covers of Star Trek: The Next Generation—The Space Between #5-6, Star Trek: Klingons—Blood Will Tell #1-5, Star Trek: The Original Series—Season Four #1-6, TNG—Intelligence Gathering #1-4, Star Trek: Mirror Images #1-5 and Star Trek: The Last Generation #3. In addition, he has contributed artwork to Rittenhouse Archives' Star Trek cards, Decipher's Star Trek Communicator magazine and Last Unicorn's Star Trek role-playing games.

Recently, Corroney discussed with me his Star Trek work and a transcript begins below. To learn more about Corroney's career and view a gallery of his work, visit his website, JoeCorroney.com.

Q: Please describe the process by which you create a typical cover for IDW, from conception to final approval. How long does it take you to complete a typical cover? And how does that process differ from your other projects—your Star Wars work, for instance?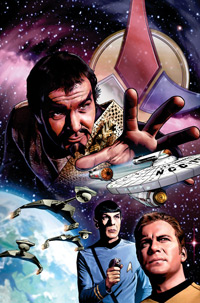 Corroney: After I get a script or plot from my editor, I start sketching thumbnail drawings in my sketchbook for the cover composition. My thumbnails are small, really rough sketches, about the size of the palm of your hand or even smaller, where I'm figuring out the design flow of the composition and what will be my most dramatic elements in the artwork, as opposed to what I might consider secondary or accent elements. It's really important to figure out the overall design first, where I'm going to lead the reader's eye, and how bold or subtle the particular cover needs to be in regards to the story before I get caught up in the details, like facial expressions, or costumes, weapons, special effects and so on. Once the design of the sketch is figured out, I can focus on the details.

Before I even start the final drawing, though, even sometimes before I start the thumbnail sketches, I start gathering up reference. Sometimes, the photograph reference I'm illustrating from will dictate the composition, or sometimes it will just put me on the right path so I can extrapolate something from the reference and come up with something new for the cover. I'm trained as a traditional comic book artist, so I can draw from my imagination as well, and I've learned the technique as an illustrator to not rely on photo reference too heavily, to only use the reference as a tool, just as a way for a means to an end to accomplish the assignment. Too many artists rely on copying the photo reference too directly, and not adding enough style or substance to their interpretation of it, which can lead to stiff or boring artwork that doesn't always connect with the audience or the viewer like it could.

But once my reference is gathered and the cover design has been sketched out in rough form, I start developing the image as a larger, tighter drawing on 11 x 17 inch Bristol Board. This is the stage where I start adding the details, like facial expressions and proper anatomy and accurate costume, weapon and ship details. As I'm drawing, I'm also visualizing the piece in color, so I tend not to include every element in pencil, whether it's the rendering of a planet or a certain effect like a phaser blast or explosion, for example. Sometimes, those things look best when rendering digitally without the benefit of hard line work. My covers are often a delicate balance of traditional drawing techniques and digital techniques, especially in terms of the special effects added to the composition, or even certain textures, for example.

When the final line art is completed, I scan the artwork, and the digital color process begins using Photoshop. From start to finish, a cover could take anywhere from a few days to a few weeks; it's hard to say, because I'm working on multiple projects on any given day, usually. It really depends how much time I have in the deadline for the project, and how many characters or how much detail ends up being drawn or colored into the cover. Since I'm drawing or painting for a variety of projects at the same time, I have a great colorist collaborator by the name of Brian Miller, who really takes my ideas and my art notes and brings them to life with his techniques and color palette. He's an accomplished illustrator himself, and a professional comic book colorist, so he often brings ideas to our collaborations that exceed my expectations. We've worked together on just about every single one of my Star Trek covers for IDW to date, I believe.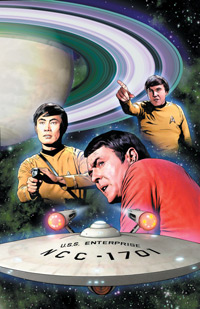 Once the color version comes back to me from Brian, I'll sometimes go back into areas and do some tweaking or finessing if there's something I want to add, and then I e-mail the image over to my editor, who then sends to it over CBS/Paramount, who sign off on it. More often than not, it's usually approved as is, but if there are corrections to be made, then I'll send it back to Brian, or I'll make the revisions myself.

The process for creating my Star Trek work really isn't different at all from how I create my Star Wars work. I really just took what I learned and developed in illustrating Star Wars for Lucasfilm over the years, and applied it to my work on Star Trek or Farscape. The only real differences come in the details, of course, in terms of specific cover content like the characters, costumes and the environments. My style is pretty much consistent from Star Wars to Star Trek.

Q: You've previously done Star Trek work for Last Unicorn Games, Decipher and Rittenhouse Archives. How does it feel to return to Star Trek, and what keeps drawing you back to that universe?

Corroney: Drawing Star Trek comes really naturally for me because I have such great admiration and respect for the stories and the characters. It's a similar attraction in respect to my work for any of the other licenses I really cherish drawing for, like Star Wars, Indiana Jones, The Lord of the Rings, Farscape and so on. Star Wars may be my biggest love, both as an artist and a fan, but Star Trek is a close second since it's always been around for me in some degree my whole life, even long before I became a professional illustrator. Just growing up with the reruns as a kid and watching them every Sunday morning with my dad is a really fond memory for me. Then we'd, of course, go see every new film over the years when it was released, too.

Star Trek gave us a really strong bond growing up, and it wasn't until I was a little older that I realized what was so great about the original TV show wasn't just the aliens, the space ships, or the action. It was the character dynamic of the cast, and the values at the core of the storytelling, that was the real appealing factor. It's also my passion for not just the material, but the science fiction/fantasy genre that I always find myself coming back to in my work. So when it comes to wanting to get inspired to illustrate in this genre, you really can't get much bigger than franchises like Star Trek or Star Wars.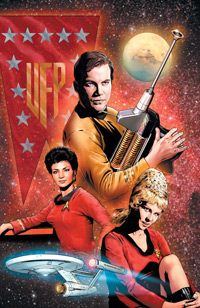 Q: In recent years, you've enjoyed a good deal of success as an illustrator for franchised universes. How difficult has it been for you to establish a career in that field?

Corroney: It wasn't too difficult for me, really. It's been a long building block process of sorts, each property or license leading to the next one. Star Wars really opened the door for me years ago as an illustrator for other licenses. One of the first publishers I illustrated Star Wars for also had the Men in Black and Xena and Hercules licenses, so I had the opportunity to create artwork for those properties. Then a similar role-playing game publisher called Last Unicorn Games offered me work on their Star Trek books years ago, which really got me started illustrating professionally for that property. In recent years, I've been producing a lot of Star Wars artwork for Topps, who has given me some great opportunities illustrating for their Indiana Jones, The Lord of the Rings and Heroes licenses. It really helps being a fan of the material you're working on. That passion and inspiration I pour into my work will hopefully bring attention from the fans and the publishers, which in turn brings in offers and opportunities to work on more licenses or more Star Trek projects.

Q: How have the online world and digital media changed your approach to being a working artist? And how has the creation of joecorroney.com improved your ability to obtain new gigs? Do you think a Web presence is vital for up-and-coming illustrators?

Corroney: I was originally trained as a traditional illustrator, but during my last few years in college, digital illustration was really coming into its own, and I began illustrating with the computer more. If it hadn't been for my training in digital illustration, I'd probably still only be illustrating with traditional media and my comic book cover work would probably be a bit more mainstream because of it. It's pretty mainstream as it is—it's very commercial—but I mean my techniques and my art style would be much different. Most likely, I'd still be working in pen and ink more often, and not always be thinking in color when I'm just penciling. I think being trained in color as an artist, in both traditional and digital media, has given me flexibility with my skills that's allowed me to create a certain kind of balance in my style that's unique to myself to some degree. Also, collaborating with my colorist Brian over the last few years has brought my work to a different place, and has defined my style in other ways, too. So it's a combination of elements that's brought me to where I am today with my work. I think the most important thing as an artist is to be open-minded, to experiment, and even to embrace new styles, techniques and technology when possible. It's the exploration of the craft that will most often bring your work to another level, and allow you to advance creatively, which leads to more interesting and personally fulfilling art.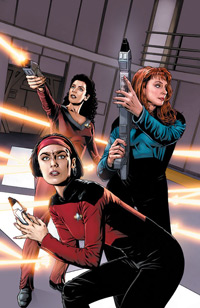 Because of the online world, it's made my work more accessible to a wider audience and a larger fan base. Of course, working on huge properties like Star Trek and Star Wars brings a certain amount of attention to my work, but it's also a matter of consistency and creativity within the subject matter that keeps the work coming in. But the fact that I established myself online years ago with a solid website at www.joecorroney.com to showcase my art properly has definitely been a key factor in establishing a career for myself. As popular as comic books seem to be, Star Trek and Star Wars comics really are a niche market in this industry, so getting my work out there in front of as many eyes as possible, and not just in front of customers in comic books shops, has been really important for me and my career. Any serious artist, creator, writer, musician or self-publisher should definitely have a web presence of some sort to help establish any kind of longevity with their work and their careers.

Q: Your covers are known for being extremely accurate in their depictions of character likenesses and technology. How do you attain such accuracy in your artwork?

Corroney: I'm a stickler for detail. It's the nature of most comic book illustrators, I think. I also enjoy drawing from life whenever possible, too. I've had years of figure-drawing training, and I enjoy establishing a sense of realism to my work, too. Along with my comic book and cartooning background, it's more of a hyper-realism, really, that I've established in my work over the years. I'm also a huge movie fan, of course, so I try to bring a cinematic appeal to my comic book art. This is where having the right reference comes into play. Whether I'm drawing for Star Trek or Star Wars or a bunch of super villains for another comic book, or even just drawing a building or certain kind of car, having the right reference for inspiration can be key. It just really depends on the nature of the illustration and how far, or how little, I run with the reference, and how literal I utilize and interpret it for the composition.

Q: How do you choose the subjects for your Star Trek covers?

Corroney: Usually, once I read the script or plot synopsis for the comic book given to be my editor, I come up with ideas as to what should be featured on the cover in my illustration, like which characters or ships are featured in the story. Sometimes, I might choose to focus on a specific action scene from the script, for example. I might also work with the writer of the story directly, too, getting their input so I can nail the look of the scene or the characters just right and keep it in theme with what the interior artist might be illustrating for the pages. It often helps getting the writer's insight so I can make the cover as accurate to the details of the story as possible—not just literally, in terms of the background setting or costumes, but figuratively, in terms of getting the emotion or the right dramatic impact for the story.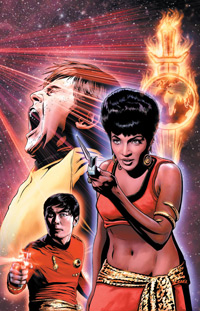 Q: Are there any characters, ship designs or incarnations of Star Trek that you find particularly difficult to capture? Conversely, which do you most enjoy illustrating—and why?

Corroney: I love drawing Spock. There's something so iconic about the look of the character, his distinct profile, the haircut, the eyes and, of course, the ears that I really have fun with. He's definitely my favorite Trek character to draw. On the flip side, Kirk can be really tricky to draw. There's a certain roundness to his face that makes his features hard to pin down in pencil sometimes. I think because of my graphic comic style, I can even really exaggerate the lines and shadows in Spock's portrait, and I can still come across with a proper likeness for the character in my art, whereas Kirk is trickier for me in that regard. Klingons from the later Trek era, like TNG, can be tricky to draw with all of those head ridges, and ships can be difficult in a time-consuming way, with all of that detail, but I really enjoy drawing everything for Trek.

Q: What resources do you have available in your studio, to draw upon when creating Star Trek artwork?

Corroney: I have a pretty extensive library of Star Trek books, magazines and reference CDs on hand in my studio, or I grab whatever images I can research online if I need to for certain projects.

Q: With Mirror Images recently concluding, what further Star Trek work do you have in the pipeline?

Corroney: I recently completed the artwork for the third issue cover for Star Trek: The Last Generation #3, and there are some new Trek projects I'm currently talking about with my editor at IDW, but there aren't really any details I can discuss yet. I was hoping to illustrate the covers for the new Trek IX prequel comic book adaptation, but that didn't pan out for me, unfortunately. But there should be more Star Trek work coming down the pike from me in the near future, hopefully.

Q: Finally, a broader question: With a new film coming out in 2009, Star Trek is enjoying a rebirth. Why do you think Trek continues to endure after four decades, despite the less-than-stellar fan receptions of recent offerings (Voyager, Enterprise and Nemesis, for instance), which might have sounded the death knell of any other franchise?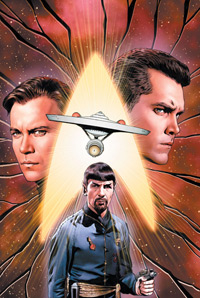 Corroney: I really think it's the sense of adventure and optimism at the core of Star Trek that makes it so endearing to so many people, and allows it to endure even through the misfires of an uneven film or television series. It's the characters and the storytelling that keeps bringing fans and audiences back. Interesting, fully developed, successful characters in pop culture like Kirk, Spock, Picard and Data have become just as iconic and fascinating to us over the years as any classic character from literature. I think that's one of the primary reasons we're seeing this new take on the franchise in J.J. Abrams' upcoming prequel film.

It's really about the storytelling, too. Star Trek has proven, time and again, to be an entertaining source of allegory for modern-day themes, social conflicts, and morality questions about humanity, and presents them in a fresh light that makes you think and feel as viewer or a reader beyond the usual sci-fi fare, that tends to focus more on the spectacle of the genre. Star Trek endures because it's a classic.

**********

I hope you enjoyed this week's Comics 101 and I'll see you here next time for another new feature!

-Joe



<< 10/25/2007 | 11/06/2008 | 11/05/2009 >>


Recent Columns:

NEWEST
TeeKay-421 Magazine #65: A Star Wars Interview (09/05/2013)
12/29/2011
Star Wars Galaxy 7 Artist Sketch Cards - Step by Step
10/28/2010
My Top Five Favorite Horror Films, The Horrors of Canada and Movie Review - Dellamorte, Dellamore (a.k.a. Cemetery Man)
09/09/2010
Movie Review - Machete
07/08/2010
Celebration V: The Empire Strikes Back 30th Anniversary Limited Edition Print Artwork
11/05/2009
Star Wars: Clone Wars Season One Widevision Artist Sketch Cards - Step by Step
11/06/2008
You Have the Comic, Number One: A Star Trek Interview
10/25/2007
Download Zombie Prom for FREE at iTunes, My Top Five Favorite Horror Films and The Horrors of Canada
09/06/2007
Movie Review - Rob Zombie's Halloween
06/21/2007
Star Wars: Celebration Europe 30th Anniversary Limited Edition Print - Photo Reference, Finished Pencil Art, In Progress and Final Color Art and Comic-Con International 2007
05/03/2007
Star Wars: Celebration IV 30th Anniversary Limited Edition Print - Photo Reference, Finished Pencil Art, In Progress and Final Color Art and Free Comic Book Day 2007
Archives >>
Comics 101 Archives
Home | News | Comics 101 | Stuff to Buy | Bio/Credits
---
© 2023 - , 153 Sheffield Way, Sandusky, OH 44870
All other ® & © belong to their respective owners.