---

Shop at my official Art Store



Become a fan on Facebook



Follow me on Twitter



View my art on Instagram


---



---



The latest art tips and techniques, reviews and interviews from my studio. Updated here and at World Famous Comics!



Comics 101 Archives


Comics 101 for 10/19/2006
The Horror Art of Bryan Baugh, Bill Bronson and Tom Mandrake, Movie Review - Dellamorte, Dellamore (a.k.a. Cemetery Man) and The Incredible Two-Headed Marathon III: Horror Hosts Gone Wild UPDATE!

For all of this month and just in time for my favorite holiday, Halloween, Comics 101 will be featuring articles of the more macabre variety as we focus on the theme of 'horror' (one of my favorite genres of comics and film). So here each week in October, sink your plastic fangs into a horror flavored Comics 101 feature!
For this week's feature I thought I'd shine the moontlight on some of my friends artwork from all corners of the Weird Wide Web. These 'horrific' illustrators specialize in tapping the darkest corners of their twisted imaginations and to get you primed for the unholiest of holidays I'm inviting you do some cadaverous cavorting at the following links.

First up, we have my pal Bryan Baugh, scare-meister extraordinaire...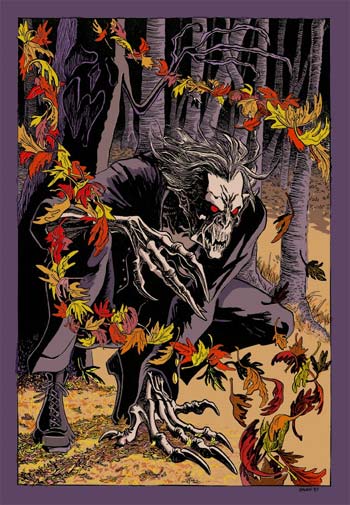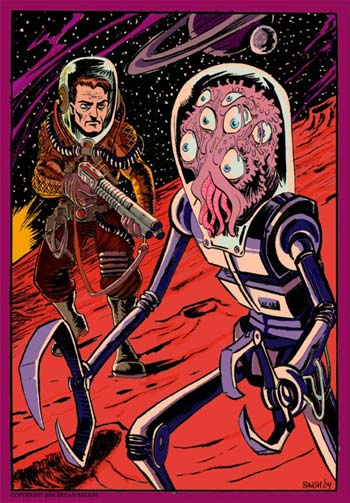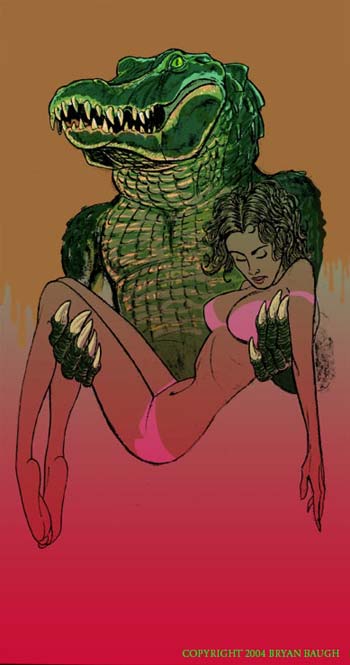 Bryan is an animation storyboard artist for Sony Pictures having worked on Roughnecks: The Starship Troopers Chronicles, Men In Black and Batman to name a few. His characters, Wulf and Batsy, appearing in their first graphic novel titled We Have No Home, was published by Chanting Monks Studios with a cover illustration by renowned artist Joe Chiodo. Be sure to head over to their site and pick up a copy but in the meantime visit his Wulf and Batsy gallery.

Also, check out his book called Scared!: How to Draw Fantastic Horror Comics from Watson-Guptill.

Next up we have my fellow CCAD grad and arch-nemesis, Billy 'The Squid' Bronson. He's more tentacle now than man, twisted and evil. His first publication from SQP Publishing, Chicks and Monsters, collecting his illustrations and original stories is now available and you can check out this sneak preview.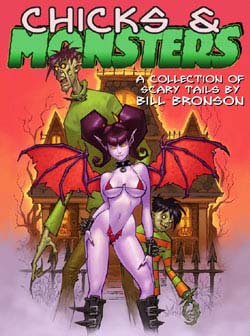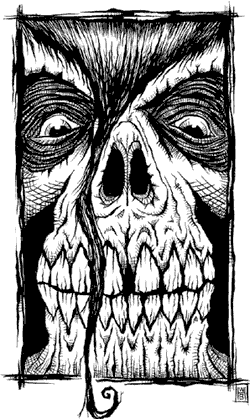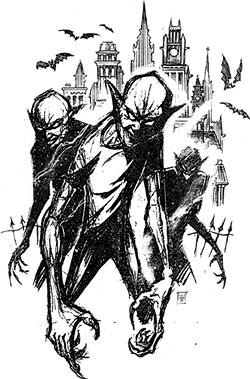 If you enjoy these tasty morsels then whet your monstrous appetite at Bill's official site.

Saving the 'creepiest' for last, I dare you you to explore the artistic mysteries of Tom Mandrake. You've seen his work recently in Marvel's Punisher, Weapon X, The Hulk: Unchained and not to mention his fantastic work on DC's Batman, JLA: Destiny, Martian Manhunter and The Spectre. But if you haven't read his creator owned series from Image entitled Creeps, then you are definitely missing out! Chitter, Booger, Gelulite - these are just some of the creep-tastic characters you'll find lurking in the pages of this enjoyable spawn of comic evil from artist/creator Tom Mandrake and his partner in crime Dan Mishkin.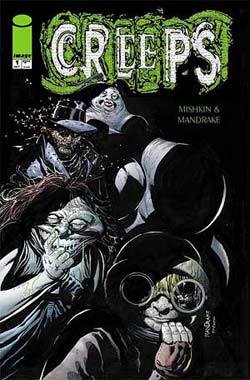 Sneak a peek at Creeps in his Buy Stuff section. If those pages don't freak you out then shamble on over to his portfolio page.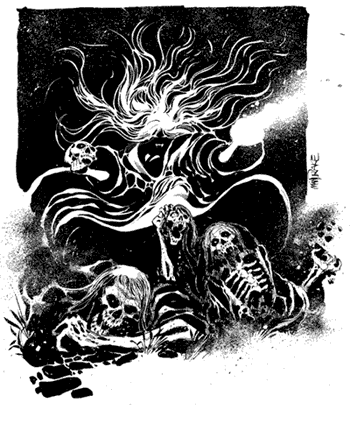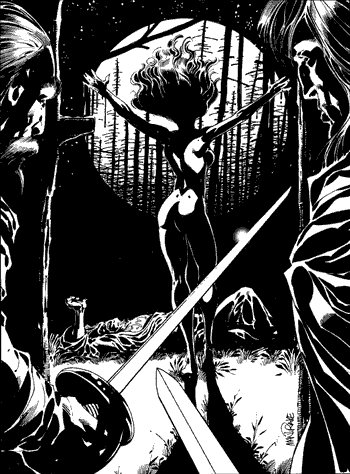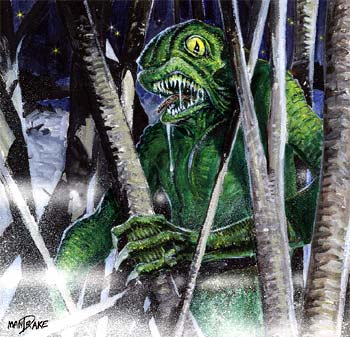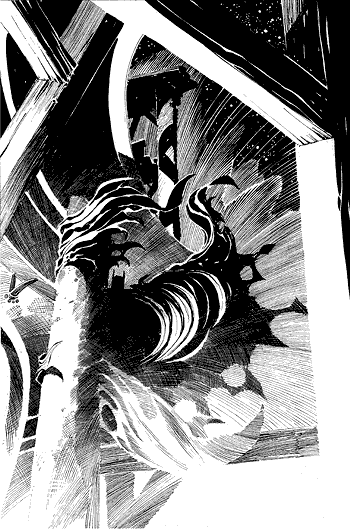 Tom and I collaborated on artwork for the award winning, independent horror/musical feature Zombie Prom and keep your eyes peeled for his new comic book Pat Novak For Hire written by Steven Grant available from Moonstone Books. Check out this sneak preview!

**********

Movie Review - Dellamorte, Dellamore (a.k.a. Cemetery Man)

Zombies seem to be popping up, or rather rising up, left and right at the local cinema these days. The highly enjoyable and frightening 28 Days Later really kicked off the 'New Zombie Revolution' in spades. In the years since we've had a revoltingly rancid renaissance of horror flicks featuring our favorite kind of mindless monster from the superb Dawn of the Dead remake, the hilarious and yet still cringe-worthyShaun of the Dead and even a fourth entry in George Romero's 'Dead' franchise, Land of the Dead (starring Simon Baker, Asia Argento, Dennis Hopper and John Leguizamo and available on DVD as an unrated director's cut!). But for every movie of their caliber we get sucker punched with another lackluster Resident Evil, House of the Dead or even The Fog remake.

But fear not, oh lovers and perverse purveyors of resurrected, shambling corpses and freaky phenomenon. I've come bearing the decayed fruit of a true Italian horror gem of a movie known as Dellamorte, Dellamore (or Cemetary Man as it's referred to for it's American release). It will keep the loathsome depths of your nightmares filled with the morose melodies of incessant incorpreal wailing ... and will also actually enlighten you with it's layered philosophy on life and death and mysitfy you with it's incredibly stunning visuals.



An 'artsy' zombie movie dare you say? As a matter of fact, yes.

Directed by Michele Soavi (The Church, The Devil's Daughter) Dellamorte, Dellamore is by far one of the most stylish and beautiful zombie films, or horror films for that matter, ever made. Soavi is the protege' to the Italian "giallo" master, Dario Argento. Argento is the auteur responsible for many an Italian horror masterpiece (also being responsible for 'producing' the lovely Asia Argento) including one of this comic book artist's favorites, the horrifically and hyponotically beautiful Suspiria. While watching Soavi's film one can easily see the influence from one of the masters of great Italian horror but this student of the macabre really comes into his own and excels in true form here.

Dellamorte, Dellamore is based on the novel by Tiziano Sclavi and is inspired by the popular Italian comic "Dylan Dog: The Detectives of Nightmares". The film is every bit as violent and gory as any good zombie flick should be but it's the style of direction, the execution of the story and the memorable characters that set this one above the rest in my book.

The film stars a ruggedly cool Rupert Everett (yep, the same un-ruggedly cool Rupert Everett from My Best Friend's Wedding) as pistol-packing cemetary night watchman Francesco Dellamore who must kill 'returners' - corpses who, for whatever reason, always come back to life seven days after they are laid to rest. Rupert plays the Francesco character like a horror version of the Spaghetti Western 'Man-With-No-Name' staple made famous by Clint Eastwood even moreso than a Bruce Campbell, zombie butt-kicking, 'Ash' type character that you might expect from this film.

He soon encounters a young widow, the insatiably beautiful Anna Falchi (trust me guys, this is the most gorgeous woman to grace a horror movie since the mouth-watering Hammer horror princess Caroline Munro in Captain Kronos: Vampire Hunter), visiting the cemetary to say her farewells to her deceased, elderly husband. After humiliating, seducing, and then accidentally murdering this woman known only as 'She', Francesco slowly slips into madness, starting to confuse the world of the living with the world of the dead. His delusions are spurned by his mad love for the woman he accidentally murdered who keeps "haunting" him and reappearing as different characters throughout the film.

As he ponders the mysteries of love and death in his delerium, Francesco's one true friend, his loyal side kick, the gravedigger Gnaghi, who is, shall we say, mentally challenged and rarely ever says a word, becomes his only constant in the film, his only connection to reality in the maddening dementia that escalates in the second and third acts of the story. But Gnaghi doesn't really adhere to any semblance of reality either as he falls in love with the severed and zombified head of the Mayor's teenage daughter. When Francesco truly arrives at the descent of his downward spiral, he kicks off a murder spree that is both hilarious and frightening in it's absurdity.

In fact, not since the original Dawn of the Dead or 28 Days Later has there been a horror movie about zombies this refreshing and unique with its macabre subject matter balanced with an appealing, philosophical approach on life, love and death itself. The film also complements the over the top violence and perfectly staged gore gags with artfully done cinematography and dialogue. It really is levels above your typical zombie-horror fare. The film's exceptional score really enhances the moody characters and twisted plot. I wish I could track down and own this soundtrack on CD, it's that good. Everything in this film is really much deeper than at first glance. It's layers, upon unfolding layers and the final scene should make you go back and watch the opening frames of the film with an even more attentive eye.

Do yourself a favor this Halloween and track this movie down. Especially if you're an Evil Dead or Romero fan. It's not to be missed and even if you don't like the plot or get the philosophy there's at least plenty of Anna Falchi throughout to tide you over.

**********

The Incredible Two-Headed Marathon III: Horror Hosts Gone Wild UPDATE!

And don't forget, I invite you to join me next weekend as I'll be attending The Incredible Two-Headed Marathon III: Horror Hosts Gone Wild!, a fourteen hour plunge into caffeine induced dementia at the Drexel Grandview Theatre here in Columbus, Ohio! For the third straight year, Bruce Bartoo and Joe Neff join together their collective legacies of round the clock terror for a night of ghoulish delights and sadistic surprises. The premiere all night celebration of cinematic excess begins 10 p.m. on Saturday, October 21st and continues with blood chilling precision until Noon on Sunday, October 22nd.

The slate of celluloid nightmares for this year's Nightmarathon includes:


The Ohio Premiere of Evil Aliens - A television crew investigate claims of alien abduction in rural Wales and as said reports seem to appear true, tensions rise and come to a head as the aliens arrive... and they aren't friendly. In fact they are pure evil! To survive, the eclectic team of characters tool up with whatever weapons they can find, ranging from hammers to machetes, chainsaws to rotary tillers and even a combine harvester! Will they survive the alien threat? And who will be abducted, mutilated, probed, and decapitated? Total Film calls it "fast, furious and peppered with genre in-jokes, this hilarious censor baiter packs more gore than a bomb in a butchers shop".


Rabid - Behind the Green Door's Marilyn Chambers stars as a young woman who develops a taste for human blood after undergoing experimental plastic surgery. Her victims turn into rabid, blood-thirsty, zombies whom proceed to infect others which turns into a city-wide epidemic in this rarely screened David Cronenberg masterpiece of horror. "Pray it doesn't happen to you!"


Black Christmas - The lovely Olivia Hussey, foul-mouthed Margot Kidder and 2001: A Space Odyssey's Keir Dullea star in this eerily effective thriller about sorority sisters who are terrorized by a stranger who makes frightening phone calls and then murders them one by one during Christmas break. This "slasher" progenitor is one of the original inspirations for John Carpenter's classic Halloween. Come see this original horror classic before the Glen Morgan directed remake to be released later this year!


From Dusk Till Dawn - Director Robert Rodriguez teams up with cinematic mastermind and screenwriter Quentin Tarantino for a film that's one half crime thriller, one half horror movie and all grindhouse, gonzo gorefest. Tarantino and George Clooney star as two criminals on the lam who grab hostages Harvey Keitel and Juliette Lewis and unknowingly seek temporary refuge in an establishment populated by vampires... with chaotic results.

Other films that round out the festival include:


The Bird With the Crystal Plumage - The film that made Dario Argento (Suspiria) a groundbreaking, European sensation and presented this Italian auteur as the master of the Giallo. Tony Musante stars as Sam, an American writer in Rome, who witnesses a murder attempt on Julia (Suzy Kendall), the wife of the owner of an art gallery, by a sinister man in a raincoat and black leather gloves. But when the police let them down, Sam decides to investigate and find the killer on his own... but who is stalking who?


Burial Ground - There's more undead than you can shake a severed arm at in Andrea Bianchi's 1986 Italian classic about a professor that reanimates and unleashes a crypt-load of rotten zombies. They rise from the grave to commence attack on a jet-set-group of party-goers celebrating in a villa nearby. "When the moon turns red, the dead will rise!"

Plus a calvacade of vintage trailers and shorts! Coffinloads of prizes! The annual costume and scream contests! Goofy sleep deprived banter from your Masters of Scaremonies! And much more!

Tickets for the Marathon are $16 in advance and $20 at the door, and are now on sale at the Drexel Grandview (1247 Grandview Ave.), Drexel Theatre (2254 E. Main St.) and Laughing Ogre Comics (4258 N. High St. right next door to our dear departed Drexel North). You can also charge by phone at (614) 222-0947 Monday through Friday (a $1 service fee per ticket applies.) Tell a friend! Tell a fiend! The unstoppable horror juggernaut of The Incredible Two-Headed Marathon is prepared to rise from the grave once again!

For more information on The Incredible Two-Headed Marathon III: Horror Hosts Gone Wild! and to purchase tickets check out the official website at Horror Marathon.com and the Horror Marathon Thread in the Drexel's Film Forum.

You'll be too scared to sleep and too tired to scream! See you on Saturday night!

-Joe



<< 10/12/2006 | 10/19/2006 | 10/26/2006 >>


Recent Columns:

NEWEST
TeeKay-421 Magazine #65: A Star Wars Interview (09/05/2013)
12/29/2011
Star Wars Galaxy 7 Artist Sketch Cards - Step by Step
10/28/2010
My Top Five Favorite Horror Films, The Horrors of Canada and Movie Review - Dellamorte, Dellamore (a.k.a. Cemetery Man)
09/09/2010
Movie Review - Machete
07/08/2010
Celebration V: The Empire Strikes Back 30th Anniversary Limited Edition Print Artwork
11/05/2009
Star Wars: Clone Wars Season One Widevision Artist Sketch Cards - Step by Step
11/06/2008
You Have the Comic, Number One: A Star Trek Interview
10/25/2007
Download Zombie Prom for FREE at iTunes, My Top Five Favorite Horror Films and The Horrors of Canada
09/06/2007
Movie Review - Rob Zombie's Halloween
06/21/2007
Star Wars: Celebration Europe 30th Anniversary Limited Edition Print - Photo Reference, Finished Pencil Art, In Progress and Final Color Art and Comic-Con International 2007
05/03/2007
Star Wars: Celebration IV 30th Anniversary Limited Edition Print - Photo Reference, Finished Pencil Art, In Progress and Final Color Art and Free Comic Book Day 2007
Archives >>
Comics 101 Archives
Home | Portfolio | News | Comics 101 | Stuff to Buy | Downloads | Bio/Credits
---
© 2018 - , 153 Sheffield Way, Sandusky, OH 44870
All other ® & © belong to their respective owners.