---

Shop at my official Art Store



Become a fan on Facebook



Follow me on Twitter



View my art on Instagram


---



---



The latest art tips and techniques, reviews and interviews from my studio. Updated here and at World Famous Comics!



Comics 101 Archives


Comics 101 for 09/28/2006
Digital Inking vs. Traditional Inking: UPDATED

Joe:

In your Digital Painting example for Comics 101 (Battle Droids!), you paint over very, very tight pencils that almost look like inkings.

Does this save you time vs penciling and inking?  Or do you spend about the same amount of time because you had to pencil so tight?

When you do ink, do you ink digitally, with Zig/Copic/Staedtler markers, nibs, and/or brush?

Thanks,
Michael Greczek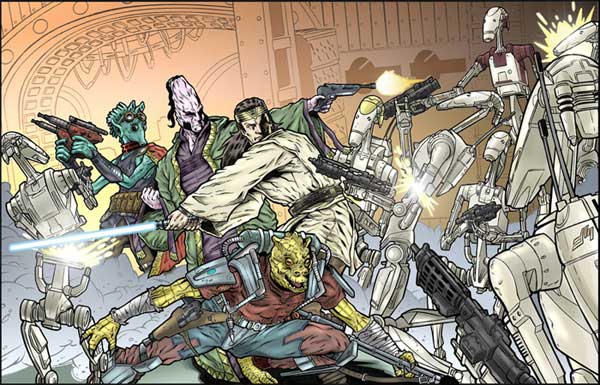 Hi Michael,

Either way really takes about the same time more or less for me in regards to spending time tightening up the pencils to paint digitally over or doing less established pencils and finishing them up in a traditional inking technique. Even though I spent time making the pencils tight, it might actually go a little faster by digitally inking the pencils in this piece since this technique becomes part of my long term painting process. I don't usually go this route for 'speed' reasons necessarily since it feels about the same. It's more about the specific technique I might want go after.

Even though the Battle Droids! piece looks like it was completed in India ink, I chose to paint over my lines digitally so they would have a slightly more painterly, organic feel than a cripser hard edged feel from actual pen and ink.

I guess I knew I didn't want to ink traditionally since I was experimenting with Photoshop at the time and testing my capabilities with the program. I was also knew this had to be in full color and was planning for a more rendered look than usual. But I suppose in the end the piece really didn't deviate much from my usual technique of masking actual pen and ink line and painting behind it on layers. Overall though, I thought it turned out pretty successful even though I played it a little more safe than I planned.

When I actually do 'ink' traditionally I primarily use a crowquill pen with a Hunt's 102 nib. I also use 101 and bowl point nibs sometimes. I like the crowquill pen nibs because I can ink pretty fast with them. I might go through 2 nibs per piece (if it's large) or page when I'm inking so it can be kinda costly me but I'm very comfortable with the dip pens. I also like the Hunt's 102 nib because of it's flexibility.

For straight edges or graphic shape outlines I use tech pens. Tech pens are great when inking more mechanical and inorganic objects like buildings, vehicles, weapons, etc. I sometimes use Windsor Newton brushes to ink my figures with when I'm feeling brave but prefer to use the brush when I ink organic textures like fur or hair on a character to give the lines a more flowing look. I do use markers to quickly block in my bigger flat blacks in my pieces and I have been using Copic markers and 'brush' pens as well.

I basically use whatever it takes to get the job done. I think the trick is not to pigeon-hole yourself into just one tool since you can get a variety of techniques from having different types of inking supplies at your disposal. A brush and a good bottle of artist's opaque white or even a white-out pen can be really handy for creating some interesting effects and not just for fixing mistakes.

One of the best artists working in the industry today (and for probably the past 20 years I think), Tom Mandrake, is a friend of mine and I've learned so much recently in terms of what I can do and get away with in my own pen and ink art by just studying his work.

Definitely check out his official website, www.tommandrake.com, and take a look at his online portfolio. Or stop by his official message board and ask him for more tips on inking anytime.

Also, for any inking and drawing supplies you should check out www.bluelinepro.com.

Just click the 'Store' link in the navigation at the top or left side of the page.

Thanks, Michael!

See ya next week for another Comics 101 feature!

-Joe



<< 09/21/2006 | 09/28/2006 | 10/05/2006 >>


Recent Columns:

NEWEST
TeeKay-421 Magazine #65: A Star Wars Interview (09/05/2013)
12/29/2011
Star Wars Galaxy 7 Artist Sketch Cards - Step by Step
10/28/2010
My Top Five Favorite Horror Films, The Horrors of Canada and Movie Review - Dellamorte, Dellamore (a.k.a. Cemetery Man)
09/09/2010
Movie Review - Machete
07/08/2010
Celebration V: The Empire Strikes Back 30th Anniversary Limited Edition Print Artwork
11/05/2009
Star Wars: Clone Wars Season One Widevision Artist Sketch Cards - Step by Step
11/06/2008
You Have the Comic, Number One: A Star Trek Interview
10/25/2007
Download Zombie Prom for FREE at iTunes, My Top Five Favorite Horror Films and The Horrors of Canada
09/06/2007
Movie Review - Rob Zombie's Halloween
06/21/2007
Star Wars: Celebration Europe 30th Anniversary Limited Edition Print - Photo Reference, Finished Pencil Art, In Progress and Final Color Art and Comic-Con International 2007
05/03/2007
Star Wars: Celebration IV 30th Anniversary Limited Edition Print - Photo Reference, Finished Pencil Art, In Progress and Final Color Art and Free Comic Book Day 2007
Archives >>
Comics 101 Archives
Home | Portfolio | News | Comics 101 | Stuff to Buy | Downloads | Bio/Credits
---
© 2018 - , 153 Sheffield Way, Sandusky, OH 44870
All other ® & © belong to their respective owners.